Meetings & Incentives
The perfect meeting space for your next event
The incredible beauty and sophisticated luxury of our resort offers a broad and exciting range of meeting, event and banqueting options all of which can be customised to ensure every detail of your special event is visualised to the highest level possible. A choice of restaurants and outdoor spaces are available for a cocktail reception or gala dinner.


World-Class Conferences
Kalimera Kriti Hotel & Village Resort provides an ideal setting for top level conferences, offering 8 meeting and conference facilities with a capacity of 10 to 450 persons. The grand "Europa" Auditorium, unique in Greece, has a capacity of 450 persons, including fixed podium and translation booths for simultaneous translation in 4 languages. The "Athena" conference hall has a capacity of 368 persons. Its foyer can also be used as an Exhibition Hall.
Banquets & Events
Outdoor amphitheatre (max 450 persons)
Small port dinner (max 400 persons)
Beach BBQ (max 150 persons)
Kafeneon Dinner (max 150 persons)
Main restaurant indoor (max 400 persons)
Main restaurant outdoor (max 800 persons)
Athena cocktail event (max 300 persons)
Dyonissos indoor banquet (max 260 persons)
Incentive Activities
Our high-tech meeting facilities combined with the luxury of a five-star resort provides the idyllic setting for a successful incentive retreat. Kalimera Kriti offers many possibilities for team buiding activities and sporting activities within the resort. We cooperate with licensed professional to offer corporate clients and groups innovative and creative incentive activities:
Mini Olympics on the beach
Castaways
Siege of success
Soap box race
Nearby activities
Minoan Puzzle in Heraklion
Knossos Minoan Palace
Canyoning in Tsoutsouros
Cultural trekking towards the Arkadi Monastry
Trekking to Mont Karfi
Jeep safari to mont Karfi
Mountain bike in Lassithi
Trekking
Sea Kayaking in Elounda
Sailing to Dia island
Photo treasure hunt at Knossos
The quest of Spinalonga
Private boat tours (from Elounda port)
MEETING SPACES
Kalimera Kriti Hotel & Village Resort features a range of venues including a cutting edge international level auditorium with multi-lingual translation booths. In contrast one of the most exciting and dramatic locations we offer is the unique and visually spectacular natural cave where unforgettable banquets and events can be held.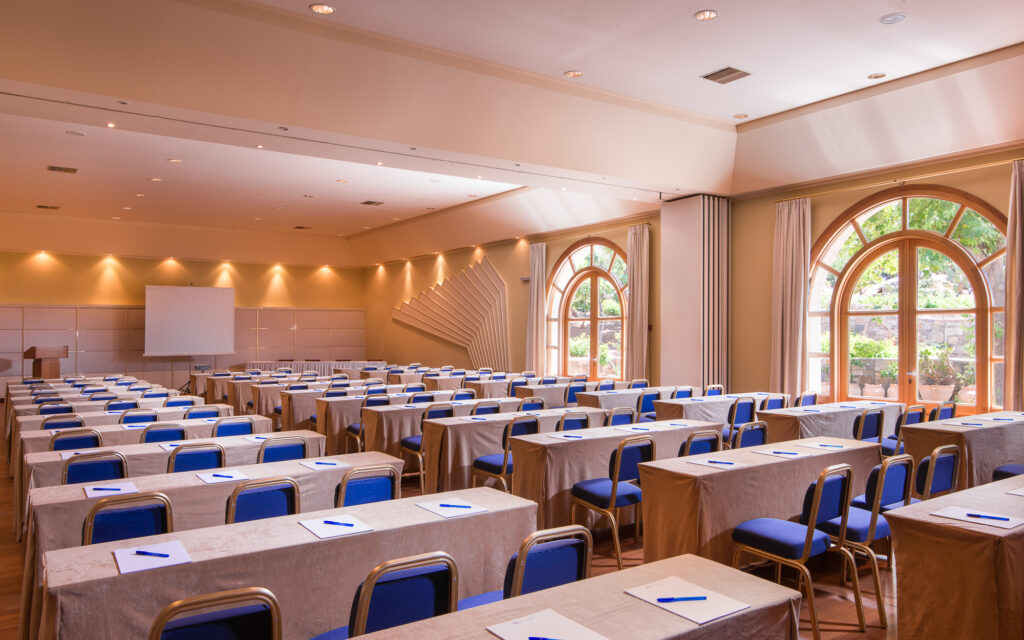 EUROPA AUDITORIUM
Height: 6m | Area: 400m² | max 450 Persons
Amphitheatre "Europa" has a permanent stage, fixed seating for 450 persons and state-of-the-art sound and lighting systems. Box office, registration area, cloak and rest rooms, phones, locked storage area.
Exhibition on space for stands: 300-350 m2 and space for posters at the foyer of "Europe".
ATHENA I & II
Height: 3.40m – 4.20m | Area: 287m² | max 370 persons
Athena Conference Hall can be split into two smaller halls or one very large multi-functional space.
APOLLO
Height: 3m | Area: 94m² | max 78 persons
Apollo meeting features natural daylight and makes a pleasant meeting room for a smaller seminar.
BELVEDERE
Height: 2.7m | Area: 38m² | max 18 persons
The Belvedere room is bathed in daylight and features an attractive oval table ready for a boardroom style meeting.
IRIS
Height: 2.7m | Area: 38m² | max 18 persons
Iris is a flexible daylight meeting room suitable for small meetings. It is close to the entrance of the Europa auditorium.
HERMES
Height: 3.5m | Area: 44m² | max 40 persons
Hermes is a medium sized daylight meeting room suitable for a range of flexible meetings. It is close to the entrance of the
Europa auditorium.